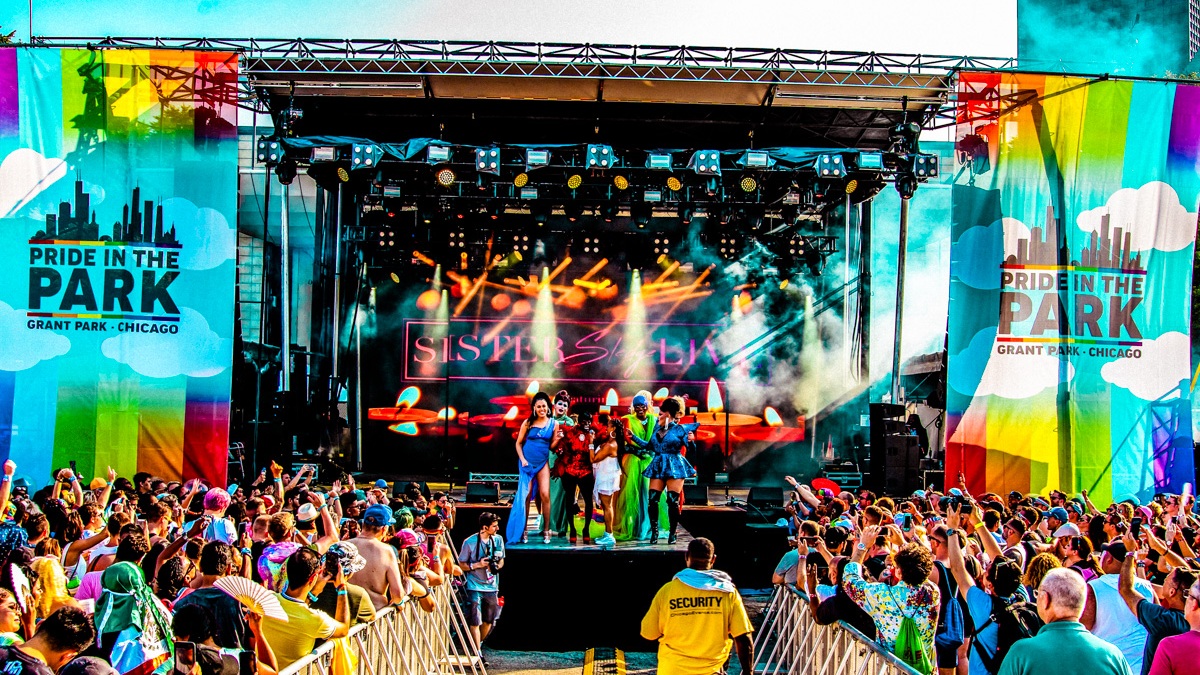 10 things to do this weekend: June 24-27 | Chicago News
(Credit: Anthony Pacelli)

1. Show off
This year Pride in the park celebrates LGBTQ pride with shows, DJs and musical performances. Headliners include Tiesto (Saturday) and Chaka Khan and Gryffin (Sunday). All participants must complete a health screening survey and provide proof of a full vaccination or a negative COVID-19 test within 72 hours of the event.
Details: 3 pm-10pm Saturday and Sunday at Grant Park, 280 S. Columbus Drive. $ 40- $ 50 general admission; $ 90 general admission for both days / MENU
---
Find more festivals: Guide to summer festivals 2021
---
2. Get dizzy
Grab your cowboy – or cowgirl – hat and boots and head to the annual Broken Arrow Horseback Riding Club event. Speed ​​and action rodeo show, where you can watch relay races, tricks and barrel races from one of the city's oldest multicultural riding clubs.
Details: 2 p.m. Sunday at the South Shore Cultural Center, 7059 S. South Shore Drive. $ 13; $ 8 for seniors and children 6 to 12 years old / MENU
---
3. Set sail
Rainbow-clad boats sail along Lake Michigan for the Pride Flotilla. Boat owners are invited to join in the festivities and decorate their boats with as many rainbows as possible. You don't have a boat? Settle in for the show. The best viewing spots include Queen's Landing, Navy Pier and the Beach, according to organizers. The event depends on the weather.
Details: 2 p.m. Saturday. The parade begins at the Adler Planetarium (1300 S. Lake Shore Drive) and continues north toward North Avenue Beach. Release / MENU
---
4. Admire
The gardens and outdoor spaces have provided respite for many during the pandemic. Find your zen this weekend at Walk in the gardens of the Northcenter district, where self-guided tours allow you to explore more than 30 gardens.
Details: Sunday from 12 p.m. to 5 p.m. Start your visit by collecting a card from Alexander Graham Bell School, 3730 N. Oakley Ave. Suggested donation of $ 5 / MENU
---
5. Enjoy
One of nature's sweetest fruits is the star of the show at Strawberry festival. Taste the namesake fruit of the holiday in multiple ways, from strawberry barbecue sauce and fried strawberries to chocolate and strawberry popcorn. Live music, family entertainment, and carnival games and rides round it out.
Details: 12 pm-11pm Friday; 10 am-11pm Saturday; 10 a.m. to 6 p.m. Sunday in downtown Long Grove, 308 Old McHenry Road, Long Grove. $ 5 / MENU
(Maksim Shutov / Unsplash)

6. Shine
Celebrate diversity, inclusiveness and love at Pride of the Navy Pier. The festivities include live music, a drag queen story hour, educational programs and a special pride-themed fireworks display (10:15 p.m.).
Details: Noon to 11:30 p.m. Saturdays at Navy Pier, 600 E. Grand Ave. Free / MENU
---
7. Fold
Go from silence to electric beats for Silent disco-yoga, with Maggie Umberger and DJ Alissa Jo at the helm. Capacity is limited and prior registration is recommended. BYO yoga mat and water. Yoga will move indoors if it is raining. Stick around for free after-class refreshments by Lifeway Kefir.
Details: 10 a.m. Sunday on the roof of the Ace Hotel, 311 N. Morgan St. $ 27 / MENU
---
8. Immersion
Marvel at one of the greatest works of Renaissance art at "Michelangelo's Sistine Chapel: the exhibition», Where you can see life-size reproductions of the 34 frescoes that the Italian artist painted on the ceiling of the Vatican City Chapel over 500 years ago. Audio guides are available for hire. Take a look at the exhibit on "Chicago Tonight".
Details: 11 am-7pm Wednesday, Thursday and Sunday; 11 a.m. to 8 p.m. Friday and Saturday to August 15 at Oakbrook Center, 2120 Oak Brook Center, Oak Brook. $ 23; $ 16 for children (ages 4 to 12); $ 18 for seniors, students and military / MENU
---
9. Sip
Can't get enough of White Claws or Trulys? Take a ticket for Seltzerland, a day-long festival featuring over 50 different flavors of seltzer water.
Details: Sessions available from 11 a.m. to 5.30 p.m. on Saturdays at Golf of Marovitz, 3701 N. Recreation Drive. $ 29- $ 59 / MENU
---
10. Collect
Gourmet items, boutique yarns, eco-friendly jewelry and pet accessories are among the many items for sale at Chicago Market for Manufacturers. In addition to showcasing the work of over 70 artisans, the market includes a DIY Perfume Bead Event ($ 12).
Details: 11 a.m. to 5 p.m. Saturday and Sunday at Artifact Events, 4325 N. Ravenswood Ave. $ 8; $ 12 at the door (if available); $ 15 VIP / MENU
(Markets for Manufacturers / Cole LoCurto)

The events listed are subject to change. We recommend that you check the times and locations before going out. Want to share your upcoming events with us for review in a future roundup? Send us an e-mail.
---