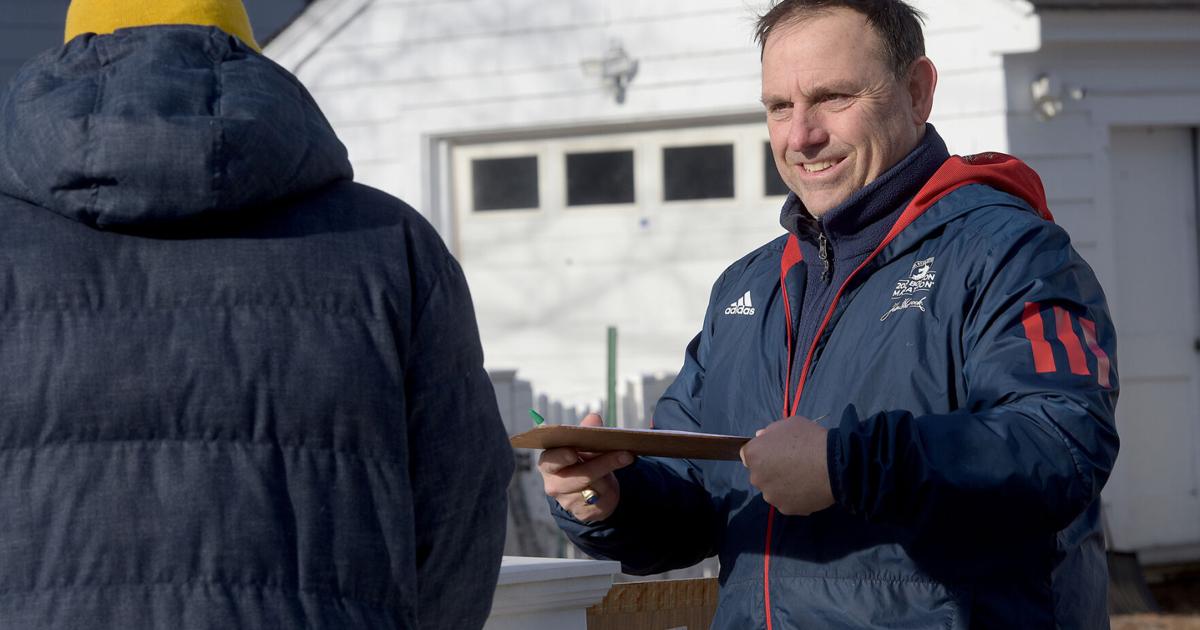 As COVID count rises, National Guard deployed to local hospitals | Haverhill
LAWRENCE – Members of the Massachusetts National Guard are on the ground in the Merrimack Valley, helping local hospitals cope with a slight increase in COVID-19 cases and hospitalizations.
Governor Charlie Baker announced last week that he was activating up to 500 National Guard members "to meet the non-clinical support needs of hospitals and transportation systems."
Meanwhile, in Lawrence, city councilors were handing out free COVID-19 tests to residents living in their neighborhood.
Mayor Brian DePena provided the nine councilors with 90 tests each to distribute to residents living in their respective neighborhoods.
"I want to put them in people's hands. People want to go out and I want them to have peace of mind, "said district F municipal councilor Marc Laplante.
He described DePena's idea of ​​distributing the free tests through counselors as "brilliant." The process creates "small satellite" sites across town to pick up free tests.
"I think it's a great idea," Laplante said.
The state provided the city with the free tests.
Baker said 300 members of the Guard began training last week and will support 55 acute care hospitals, as well as 12 ambulance service providers across the state.
Lawrence General Hospital has 10 members of the guard "to support critical daily operations" until March 20, said Ben French, spokesperson for the LGH.
Eight members of the guard "will play a patient observation role as patient safety monitors, one in a safety role and one in a patient transport role," French said.
The National Guard is deploying three members to Holy Family Hospital in Methuen and two to the Haverhill Hospital site, spokeswoman Deborah Chiaravalotti said.
"They will perform non-clinical tasks in support of clinical services like transporting patients, delivering meals to patients, assisting with environmental services, etc.," she said.
Baker said the state Department of Public Health interviewed all hospitals and ambulance service providers and, in cooperation with the Massachusetts Health and Hospital Association, identified five key roles that non-clinical staff in the Guard can play to support hospital operations for 90 days:
– Non-urgent transport between facilities, such as driving ambulances used to transfer patients between health facilities.
– Patient observers, including continuous or frequent observation of a patient at risk of injury.
– Safety support by helping to maintain a safe workplace.
– Transportation to hospital such as transportation of patients in a wheelchair or, if necessary, on a stretcher, from their patient room for tests such as x-rays or CT scans, or from the emergency department to their hospital floor.
– Catering service / tray delivery support to deliver patients' meals to their rooms.
The state's total of deaths from the pandemic climbed to 20,000 at the end of last week. The average age of patients who died from COVID-19 is 75 years old.
By the end of the month, the state could also report more than a million confirmed infections throughout the pandemic.
Authorities continue to urge people to get vaccinated and get vaccinated as the best defense against serious illnesses. More than 5 million people have been vaccinated, but hospitals are grappling with an increase in the number of COVID-19 patients and Baker said the "vast majority" of those patients are not vaccinated.
"There are going to be a lot more cases because omicron is very contagious, but people need to understand that the vaccines and the number of people in Massachusetts who have come out and been vaccinated and been boosted – their risk is extremely low, "Baker said. said last week.
State House News Service contributed to this report. Follow reporter Jill Harmacinski on Twitter @EagleTribJill.